What's Not to Love About the Instant Pot DUO?
The main reason to love my Instant Pot DUO60 is that it saves me valuable time due to its pressure-cooking feature, and I can set it and forget it while I attend to other things. But there are other reasons to love the Instant Pot:
It greatly reduces the time to cook veggies, of course.
It can cook prepare beans from dry to ready-to-eat in about an hour, depending on variety. If beans are pre-soaked, it happens even faster.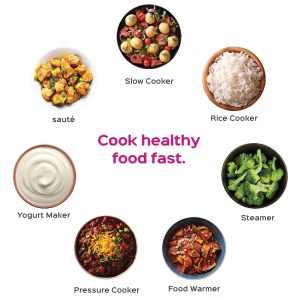 After cooking a stew or whatever, it can keep it warm for hours.
If I have reason to be away from home, it can be programmed to start cooking at a time to finish when I get back.
It can make yogurt overnight or any time of day, unattended.
I can reliably make Vitamin K2-rich natto unattended in less than a day.
It can do all the work of a pressure cooker, but it will never blow up, the way a few stovetop pressure cookers have done for me, due to built-in sensors.
It can do all the work of a slow cooker.
It can do all the work of a rice cooker.
It will  not normally burn food, due to built-in heat sensors. No more nasty stuff to scrape off the bottom of pots! (However, forgetting to add liquid will generate an ominous "burn" message on the control panel, as I discovered. I thought, Uh, oh! What now? I opened the pot to see no evidence of burning, but no evidence of liquid either. I added liquid, set the proper processing time, and the IPot did its job!)
The Instant Pot can function as just another pot, if necessary. It will sautee onions and garlic on the sautee setting, then go on to cook whatever else is added. Any one of the "Slow Cooker" settings will also make it function just fine as an extra pot.
I don't do poultry or meat, but there are special built-in functions for each. (Since I cook neither poultry nor meat, I've "programmed" these settings for different times I use often. While there is no "programming" function, the Instant Pot DUO remembers the last-used function, and that serves as well as any "programming" function.)
I love the fact that I can cook a soup or curry for potluck, lock the lid, carry it to the car by the lid handle, and not have to worry about anything spilling on the way to the car, in the car, or on the way into the church. (Of course, I can cook rice too, but it wouldn't normally spill anyway.)
The Instant Pot is so insanely popular that many imitations have sprung up1, and some offer what appear to be better warranties. (Remember that "Kleenex" used to be a specific brand name?) But I suggest that you don't be too easily taken in by imitations just because they may be cheaper. Here's why: I read reports by Amazon customers who had difficulty getting any action on so-called 3-year warranties. By contrast, I owned my Instant Pot DUO 6.0 for 17 months – well beyond the 1-year warranty – and ran into a problem with the IP refusing to heat. I contacted the company to see if there were any chance of repairs, or whatever. They replaced my pot with a new one, even though it was out of warranty. Moral of the story: A 1-year warranty from a good company may be better than a 3-year warranty from another company.
Instant Pot continuously improves its models without fanfare. My replacement pot had minor improvements, including a more intuitive control panel. After that I bought the same pot for my son and daughter-in-law, and the control panel and its options are further improved – more intuitive and more options – all without announcement or fanfare. The way I see it, you can't go wrong with Instant Pot. (If you want to make sure you get the genuine Instant Pot, make sure it says "Instant Pot" on the programming panel, as below, since many imitations are deceptively similar. Some may be good, others not so. Read customer evaluations.)
The Instant Pot company replaced my original IP-DUO60 with the same pot, version 2. So that's what I own now. I've looked over current offerings, and when the price drops a bit, I'd really like to get the Ultra 10-in-1 Multi-Use Programmable Pressure Cooker because of the degree of control it offers. (See the new dial and the display showing the processing stage.) Okay, I admit it, I'm a control freak. 😉 Note also the new "Altitude Adjustment," which is a real boon to Coloradans who live at a mile high and others at higher altitudes.  Besides the settings on my current model, the Ultra offers settings for Eggs, Sterilize, and Ultra.
Other members of my extended family also own the IP-DUO 6.0, but my sister got the Instant Pot IP-DUO80 because it holds 8 quarts, and she takes great quantities of food to potluck with the 8-quart Instant Pot, as well as her original 6-quart Power Pressure Cooker which inspired me to search for a similar cooker with a stainless steel inner pot, rather than a teflon-coated pot. That's how I found the Instant Pot, and that's why her daughter got the Instant Pot too, since she didn't like a teflon-coated pot any more than I did.
A note about pricing: It's worthwhile to search for the best pricing. I supplied reliable links, but you can pay over US$500.00 on Amazon for an Instant Pot!
If you just bought an Instant Pot and have some questions, please feel free to share in the Comments section.